HOOD FIGHT SOUTH LAWN "INTERNET THUG"
Click to block a category:
Gaming
Politics
News
Comics
Anime
Other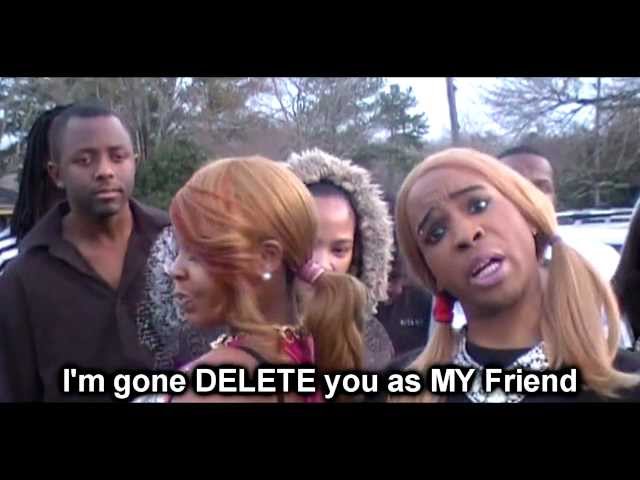 DOWNLOAD LINK FOR THIS SONG IS BELOW: ALSO Watch in 720p FOR GREAT QUALITY!
Aunt T Jackie & Female Rapper Ladyfi Da Drama Queen Give the fans more Comedy thats OUT OF THIS WORLD! LETS NOT ACT LIKE YOU DONT KNOW ANY INTERNET THUGS, ON FACEBOOK, TWITTER, AND EVERYWHERE ELSE TALKING CRAP BUT THEY ARE USUALLY THE ONES GETTING BEAT UP ON WORLDSTARHIPHOP. COM AND WRITING CHECKS THAT THEIR BUTTS CANT CASH! THIS IS COMEDY AT ITS FINEST, BE SURE TO SUB AND RESHARE! STAY TUNED MORE COMING SOON!

NEW SINGLE BY: AUNT T JACKIE FEATURING THE HOTTEST FEMALERAPPER OUT OF ALABAMA LADYFI DA DRAMA QUEEN ...... FOLLOW THEM ON TWITTER NOW @AUNTTJACKIE @QUEENLADYFI


CHORUS:
ARE YOU A VIRUS OR ARE YOU A BUG? CUZ YOU TALKIN CRAP YOU A INTERNET THUG, TALKING BEHIND YOUR COMPUTER, WHILE YOU TALKIN CRAP BUT SEE YOU IN THE STREETS AND YOU KNOW YOU WILL GET SLAPPED, ARE YOU A GANGSTER, ARE YOU A SCRUB CUZ YO PROFILE PICTURE LOOK JUST LIKE A FACEBOOK THUG, OH LORD HERE WE GO AGAIN, IF YOU KEEP TYPIN IN CAPS IM GONE DELETE YOU AS MY FRIEND!